Second-year MBA student registration is closed for most of our partner programs, and today, more than 10,000 graduating MBA students from 60+ of the world's top-ranked graduate business schools have uploaded their resumes and created career profiles with MBA Focus.
This year's graduating class of MBA2s are the future business leaders of the world. They will be CEOs, CFOs, executive managers, directors, and VPs of huge Fortune 500 companies as well as start-up entrepreneurial businesses. But what types of industries are they interested in? As expected, nearly 1/4 of the MBA2 population is interested in financial companies. And more than 16% are interested in consulting. But the next three might surprise you.
Here are the top ten most preferred industries according to the class of 2012 MBA student career profiles in our database: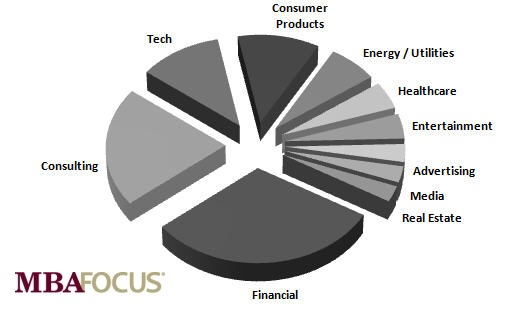 Wondering which industries didn't make the top ten? Or where the nonprofits landed on the list?
Visit MBAFocus.com for a complete breakdown of their industry preferences
.